2022 SEASON PASSES ARE NOW AVAILABLE FOR ONLY $99!
Season Pass holders are entitled to FREE refills on popcorn & fountain drinks when they come to the theatre. Just save your popcorn bag, bucket, and/or soda cup that you want refilled and show your Season Pass to the snack bar server.
We have decided that the 2022 season will be primarily single feature shows with the occasional double feature bonus night when appropriate. Since the 2nd features start so very late at night, we have observed the vast majority of patrons leaving after the 1st feature. Also, since the 2nd features are usually older titles, most patrons have already seen them. When the opportunity to present a "killer" double feature arises, we will jump on it.
Ticket prices were scheduled to increase in 2022 but we have decided to keep them where they have been for many years, $10/Adults, $5/Child since we are moving to a single feature format.
To get you excited, here is a sampling of the movies coming our way in 2022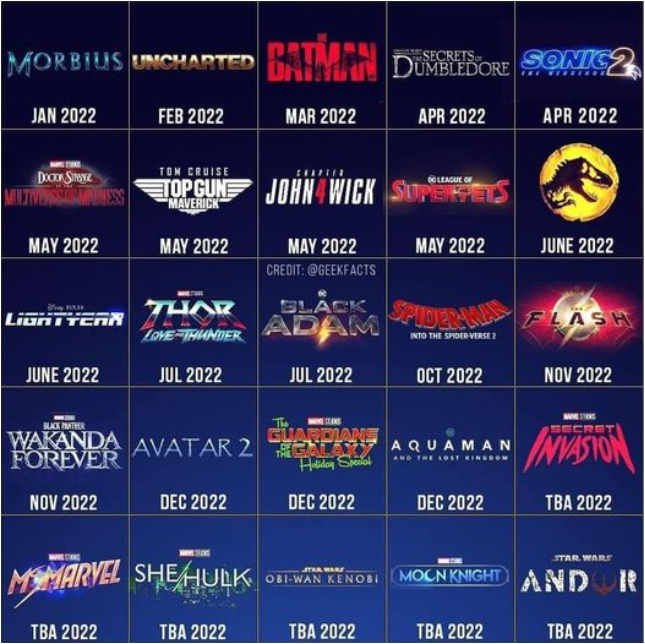 Our marquee is available for rent during the winter season break. Call (802) 688-5425 for details.
---
PLEASE NOTE: OUR THEATRE DOES NOT USE FIELD SPEAKERS
The movie soundtrack is delivered in stereo on radio frequency 88.1 for screen 1 (front) and 90.1 for screen 2 (back). If your car radio does not work, it is best to bring a battery powered radio of your own. We also have a small quantity of portable radios for rent.
PLEASE NOTE: PARK IN THE CORRECT FIELD
If you are parked in a field watching and listening to movies that are playing in the other field you must be inside your vehicle with the windows rolled all the way up and the volume low enough so that the sound does not affect the patrons around you. You cannot be outside your vehilce with a radio. Failure to comply will require you to immediately move to the correct field. No exceptions.
PLEASE NOTE: SCREEN HOPPING IS NOT ALLOWED
When you purchase a ticket, you are buying the right to watch only the features on either Screen 1 or Screen 2. You are not allowed to watch a feature on each screen by moving your vehicle to the other field. This is screen hopping and is not permitted unless you purchase another ticket for the other screen at the ticket booth when you arrive. Violators will be asked to leave without a refund.
PLEASE NOTE: WEATHER POLICY
The movies will show regardless of the weather conditions. So, if it's raining or if the stars are shining, the show will go on! However, we do reserve the right to cancel a show if conditions are so severe that it would be too dangerous for our patrons.
PLEASE NOTE: MINIMUM ATTENDANCE POLICY
We reserve the right to cancel an exhibition if less than 25 adult tickets have been sold. If the show is canceled you will be given the choice of either a full refund or a pass for two adult admissions that can be used any time this season.
PLEASE NOTE: REFUND / RE-ENTRY POLICY
A refund of your admission price will be given only if we are not able to exhibit the movies for technical reasons. Refunds are prorated if we show the first movie but are not able to show subsequent movie(s). No refunds will be given if you decide to leave the theatre grounds before the movie begins or at any time during the exhibition, for whatever reason.

if you leave the theatre grounds and then decide to re-enter you will be charged another admission ticket. This applies to vehicles and individuals on foot. No exceptions.
Admission Prices
Adults (Age 12 & Older): $10.00
Children: $5.00
Children (Age 2 & Under): FREE!

Outside Food, Beverage, and/or Cooler Permit: $5.00 per car, per night